Help me use global variables because apparently I can't make it work.
Edit: Solution!
If its not clear from the thread. The solution is that global must be specified at the start of each function to give it access to those variables.
Here is my script. It has two messageboxes that confirm the "global" variable is not working in my 2nd function, but the local one is. The second messagebox shows that the 3rd function cannot reach the "global" or 2nd function variables.
http://pastebin.com/Et7Dc2L5

When I add a global next to each variable at the top I get this error, which seems to be telling me I am not declaring these correctly.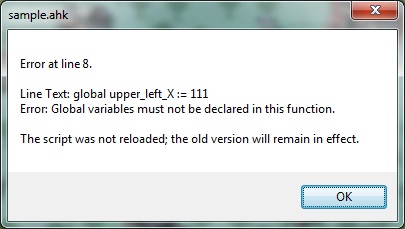 raw script:
;~~~~~~~~~~~~~~~~~~~~~
;Global Variables and Settings
;~~~~~~~~~~~~~~~~~~~~~
; These are needed in more then one function, or I want to change them in one function and have that value in another function
SetDefaults(void)
{
global
upper_left_X := 111
upper_left_Y := 325
lower_right_X := 813
lower_right_Y := 884
x := 3
return
}

;~~~~~~~~~~~~~~~~~~~~~
;IconScan
;~~~~~~~~~~~~~~~~~~~~~
IconScan(Resource)
{

{
If (Resource = "GBR")
{
Color1 := 0xFF0000 ;Green
Color2 := 0x00FF00 ;Blue
Color3 := 0x0000FF ;Red
} else if (Resource = "Stash")
{
Color1 := 0x57567C ;purple1
Color2 := 0x696998 ;purple2
Color3 := 0x62E6E5 ;purple3
} else if (Resource = "Spice")
{
;Color1 := 0x57567C ;purple1
;Color2 := 0x696998 ;purple2
;Color3 := 0x696998 ;purple3
} else if (Resource = "Vegetable")
{
;Color1 := 0x57567C ;purple1
;Color2 := 0x696998 ;purple2
;Color3 := 0x696998 ;purple3
} else
{
Gosub, Skipclick1
}

}

Msgbox, 1The global function is %upper_left_X%, the other one I dont need is %Color3%
PixelSearch, IconVar1_X, IconVar1_Y, %upper_left_X%, %upper_left_Y%, %lower_right_X%, %lower_right_Y%, %Color1%, Variation := 0, Fast
if ErrorLevel ; If not found, skip clicking
Goto, Skipclick1
else
X_1 := IconVar1_X
Y_1 := IconVar1_Y

PixelSearch, IconVar2_X, IconVar2_Y, %upper_left_X%, %upper_left_Y%, %lower_right_X%, %lower_right_Y%, %Color2%, Variation := 0, Fast
if ErrorLevel ; If not found, skip clicking
Goto, Skipclick1
else
X_2 := IconVar2_X
Y_2 := IconVar2_Y

PixelSearch, IconVar3_X, IconVar3_Y, %upper_left_X%, %upper_left_Y%, %lower_right_X%, %lower_right_Y%, %Color3%, Variation := 0, Fast
if ErrorLevel ; If not found, skip clicking
Goto, Skipclick1
else
X_3 := IconVar3_X
Y_3 := IconVar3_Y


;Add found pixels up and get average

AverageVarX := X_1 + X_2 + X_3
AverageVarY := Y_1 + Y_2 + Y_3
AverageVarX := AverageVarX / 3
AverageVarY := AverageVarY / 3


;Move mouse to averaged location

Mousemove, %AverageVarX%, %AverageVarY%


Skipclick1: ;Skip to here if you cant find anything
return
}

;~~~~~~~~~~~~~~~~~~~~~
;Random 3rd function
;~~~~~~~~~~~~~~~~~~~~~
;Just curious if this will pull variables from the 2nd function
KickAssFunction(void)
{
Msgbox, 2The global function is %upper_left_X%, the other one I dont need is %Color3%
return
}
;~~~~~~~~~~~~~~~~~~~~~
;MAIN PROGRAM STARTS HERE
;~~~~~~~~~~~~~~~~~~~~~

PGDN::
{
SetDefaults(0)
}
{
IconScan("Stash")
}
{
KickAssFunction(0)
}
return


END::Pause
return